Fundraising
The American Simmental Association and Angus Foundation have respective fundraising goals and objectives for the contributions received in honor of Dave Nichols.
You can help the organizations offset their equal share of the expenses for the portrait and promotions of Dave Nichols' induction into the Saddle and Sirloin Club by donating online using a credit card, or mail contributions by check payable to the respective organization you wish to support.
The Dave Nichols Saddle and Sirloin Club Portrait Committee extends its appreciation to you for your generous charitable financial support. To learn more, contact American Simmental Association's Nancy Tom at 210-487-0661 or Angus Foundation President Milford Jenkins at 816-383-5100.
---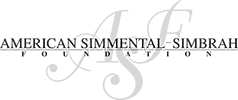 Donate to American Simmental Simbrah Foundation
Checks to: American Simmental Simbrah Foundation
1 Simmental Way
Bozeman, MT 59715
Designate funds for: Nichols Saddle & Sirloin Portrait
---

Donate to Angus Foundation
Angus Foundation
Nichols Saddle & Sirloin Club Portrait Project
3201 Frederick Avenue.
St. Joseph, MO 64506
---